ABOUT
Welcome to TOBIU CAMP 2015!
TOBIU CAMP is hosted every year at the artist community "TOBIU" in Shiraoi,and it is not only host to many performances, musical as well as theatrical highlights,but also a meeting point for the artist community in Hokkaido.
TOBIU CAMP is a magical trip into the deep forests of Hokkaido, where you are about to find out the beautiful wonders this island has to offer on the last days of its best season!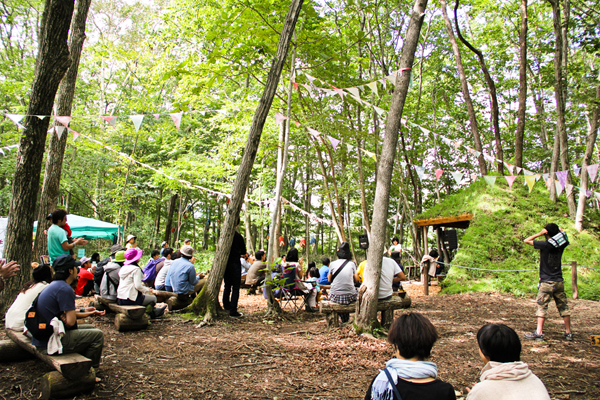 The stage of this story is a small school building in the Shiraoi forest.
The Shiraoi area of Hokkaido is one of the important holy places of the Ainu,the indigenous people of Hokkaido.
The little old school building there is continuing to host several artist studios for their creative activities for now more than 25 years long. Under the name "Forest of Creation",the surrounding forest has become a part of the creative projects, as many artists come together every year since 2011 to continue creating new shapes and forms.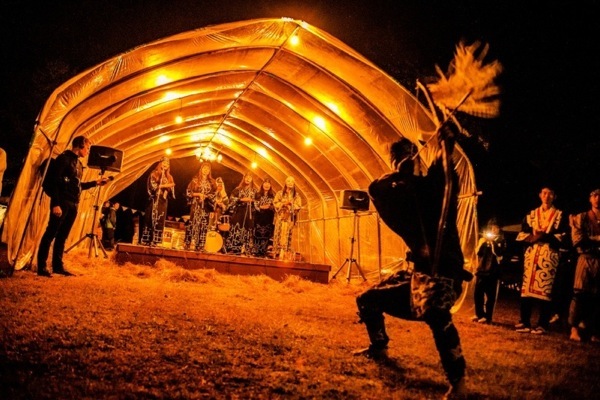 TOBIU offers a mysterious atmosphere and space for the festival:
A big bonfire is lit up in the front of the old wooden school building, traditional Ainu songs called Upopo are swaying through the air, incapsuled by the darkness of night, where the sky full of stars is surrounding the forest, a deer's cry, mysterious lights are flashing… Be inspired by TOBIU CAMP's atmosphere as it takes you through the various stages and landscapes.
That day, you become a part of this story, and this experience is shared by everyone.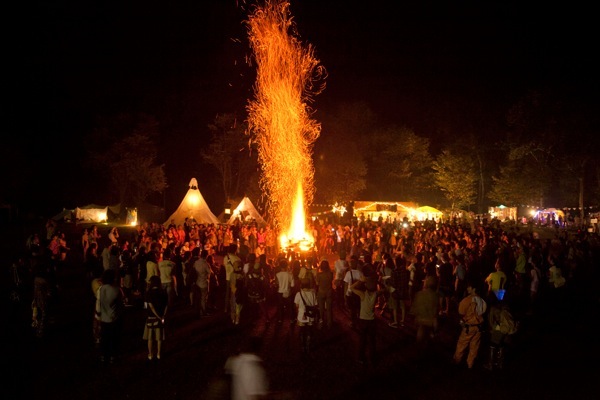 Come along and enjoy this unique Hokkaido experience!
Bring your tent and some blankets, food is available at the local stands!
See you at the forest stage on September 12 (Sat)!!

Let's celebrate Hokkaido together!
From September 12 (Sat) to September 13 (Sun)!!!

For DETAILS, please see bottom of page.
[ https://www.facebook.com/TOBIUCAMP ]
LOCATION ADDRESS
飛生アートコミュニティー校舎と周囲の森 | TOBIU ART COMMUNITY (SCHOOL BLDG & FOREST)
北海道白老郡白老町竹浦520 | Hokkaido, Shiraoi-gun, Shiraoi Takeura 520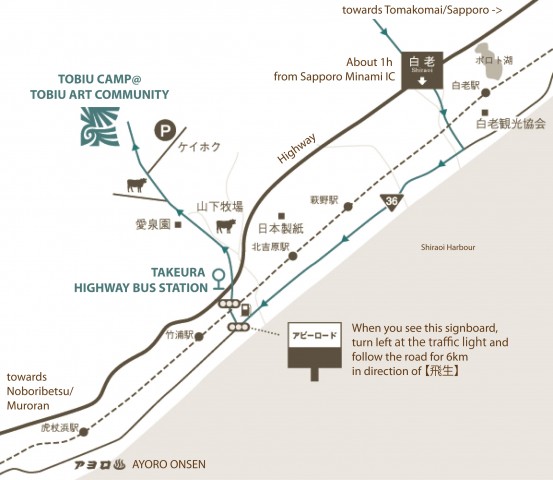 [ ACCESS ]
There are several ways to come to the festival:
– by rental car (there are not too expensive rental car services available in Sapporo, such as niconico or One's car)
http://www.ones-rent.com/ | http://www.2525r.com/
-Coming by public transport and taxi

By bus & taxi to the festival = Please call for info on time table and fares or look up at the bus company's website.

■ Sapporo – Kosoku Takeura: 90 minutes
◎Bus #Kosoku Muroran (Hokkaido Chuo Bus) | 1750yen
◎Bus #Kosoku Shiratori (Dounan Bus) | 1750yen (get off at "Kosoku Takeura")

■ From bus stop to festival by taxi: 10 minutes
Call "Shiraoi Transport": TEL.0144-82-2244

◎Contact Information
・Hokkaido Chuo Bus Terminal: TEL 011-751-2637
・Dounan Bus: TEL 0143-45-3411 or for time table: http://donanbus.co.jp/pdf/citybus/hakucho.pdf
※For the highway bus from Takeura to Sapporo Station Terminal, a reservation is needed. A reservation can be made until 1 day before departure.

◎About bus and taxi
・A reservation is needed for return by bus from "Kosoku Takeura" back to Sapporo. Please reserve by calling the bus company until 1 day before your departure.
・The bus time schedule can vary due to weather and road conditions. Please check with the bus company.
・Around the festival time, it can be that the taxis are very busy. It might take some time to get picked up by the taxi. Thank you for your understanding.
DETAILS
| | |
| --- | --- |
| Date: | September 12, 2015 (SAT) – September 13, 2015 (SUN) | 12:00 START 14:00 CLOSE |
| Ticket: | ADV 3500yen | DOOR 4500yen | WEB RESERVATION 4000yen | WEB RESERVATION for College student 2500yen | FREE ENTRANCE for kids under 18years | *FREE PARKING!! |
| Where: | TOBIU ART COMMUNITY (SCHOOL BLDG & FOREST) |
| Place: | Hokkaido, Shiraoi-gun, Shiraoi Takeura 520 |
| Web: | http://tobiucamp.com/ |
[ TICKETS ]
Advanced Ticket: 3500yen
Same Day Ticket: 4500yen
WEB RESERVATION 4000yen
WEB RESERVATION for Student 2500yen
kids under 18years FREE ENTRANCE

[ How to WEB RESERVATION ]
Please email to "contact@tobiucamp.com"
・Please send an email title "TOBIUCAMP ticket reservation".
・Please send your phone number / full name / address / e-mail address.
・We will send you a confirmation email with details to your ticket.

[ PRE-SALE TICKET SHOPS ]
〈札幌市 | In Sapporo〉
– DAIMARU PLAY GUIDE | 大丸プレイガイド TEL:011-221-3900
ADDRESS: CHUO-KU, Minami-1 Nishi-3 Daimaru Fujii Central 1F
中央区南1条西3丁目 大丸藤井セントラル内1F

– CAMCAM TEL:011-271-4449
ADDRESS: CHUO-KU, Minami-2 Nishi-7, M's Space 1F
中央区南2条西7丁目 M'sスペース 1F

– FAbULOUS TEL: 011-271-0310
ADDRESS: CHUO-KU, Minami-1 Higashi-2-3-1 NKC Bldg 1F
中央区南1条東2条3丁目1 NKCビル 1F

– PROVO TEL:011-211-4821
ADDRESS: CHUO-KU, Minami-6 Higashi-1-2 KI Bldg 3F
中央区南6条東1丁目2 KIビル3F

– TO OV cafe TEL:011-299-6380
ADDRESS: CHUO-KU, Minami-9 Nishi-3-2-1 Maison Heights 1F
中央区南9条西3丁目2-1 マジソンハイツ1F

– BROWN FLOOR TEL:011-231-5477
ADDRESS: CHUO-KU, Minami-2 Nishi-3-5-2 K-Bldg 1F
中央区南2条西3丁目5-2 K-BLD 1F

– HOKKORI SAKEBA | ほっこり酒場
ADDRESS: CHUO-KU, Minami-4 Nishi-1 Shousukedon 2F
中央区南4条西1丁目しょうすけどん2F

– Nuggets TEL:011-596-0594
ADDRESS: MINAMI-KU, Tokiwa-5jo-2chome 104-8
南区常盤5条2丁目104-8




SUPPORTED by